Go Pro Competitor 'Graava': This New Toy Edits Videos For you
Aug 06, 2015 07:00 AM EDT | By Mikey Blanco
Watch out GoPro! There's a new kid on the block sporting some snazzy new tech. The Graava camera will be able to filter through your footage and capture "the best or most exciting moments."
You will be able to take video, let it roll, and let the Graava camera take out the boring parts and only include the parts you most probably want. It does this by using a variety of sensors including camera, microphone, accelerometer, GPS, and heart rate monitor.
For instance, a stroll in the park may seem mundane enough, but if something interesting happens and is recorded with the sensors, then that clip is automatically "put aside". Whether it is something that you see, hear, do (like accelerate), or even something that excites you, the Graava camera will take these clips and, just like your brain, make a memory of it in the form of a five minute video.
The camera boasts high-resolution images at 1080p/30fps or 720p/60fps. Still images and hyperlapses can also be captured through its 8mp lens. It also comes at a wide angle 130-degree view.
Graava CEO and co-founder Bruno Gregory says, "Millions of videos are shot every day, but very few people actually have the time, experience, or software necessary to edit the hours of footage they have after a long day skiing or zip lining."
He envisions a revolution in a way people share and edit their video experiences. Like a GoPro, it can be used for filming sports action, day to day events, and can definitely be used as a bike or dash cam.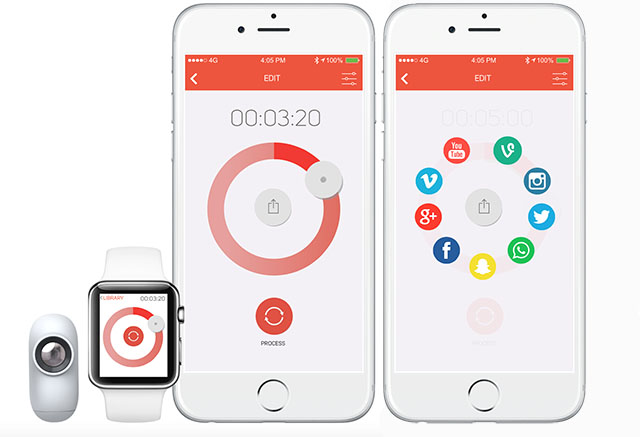 On the Graava website you can see their official media statements and portfolio, as well as a massive $150 discount if you order before Sept 1, 2015.
The ground has been set for a potentially revolutionary camera that changes user experiences and makes the most out of the hundreds of hours of video that you take. Is the Graava camera enough to compete with the GoPro? You decide.
© 2018 Food World News. All rights reserved. Do not reproduce without permission.
Food Biz
Campbell Soup has announced it will sell its Danish baked snacks manufacturer Kelsen Group to CTH Invest, a Belgian holding company affiliated with the Nutella maker Ferrero, for $300 million. The transaction is subject to customary purchase price adjustments, and it is expected to be completed in the first quarter of fiscal 2020.
The newly appointed editor-in-chief of Esquire Magazine, Michael Sebastian, recently told the press that he wants to get away from the idea that the magazine's reader is "a middle-aged white guy who likes brown liquor and brown leather"). Which should send chills down the ad dept's spine working on those Scotch and bourbon accounts!
Adding a squeeze of fresh lime and a dash of salt to a lager or pilsner has long been Mexican tradition, and in the 1980s, this practice evolved into the refreshing beer cocktail known as a michelada. The popularity of the drink grew across Mexico and, thanks to the influx of immigrants, it translated well to restaurants and bars across the U.S.
Food Tech
Rosé wine is made in almost every region in the world, from many different grape varieties. And rose-colored wine is produced in a sweet, dry, sparkling, and even fortified style. Yet the classic style of dry rosé wine from Provence sets the trend that many other wine-producing regions around the world want to emulate.
Dominique Ansel moved from Paris to New York City to work at Daniel Boulud's French flagship Daniel as the executive pastry chef, a position he held for 6 years. Fast forward 15 years later, and Ansel has become a household name after the invention of a certain croissant-donut hybrid, and his namesake bakery has expanded beyond SoHo to include branches around the world.
As if you ever really need an excuse to order a piña colada, today is National Piña Colada Day, so go ahead and order that creamy, sweet, cocktail-meets-dessert libation that is best served on a sunny, tropical beach somewhere exotic.