Take A Look At These Luxe CROSS Townsend 'Star Wars' Pens [PHOTOS]
Sep 03, 2015 10:00 AM EDT | By Martha Ignacio
The force has always been strong with the "Star Wars" fan base.
In fact, many have been looking forward to the brand's numerous deals (like those limited edition Adidas sneakers) and announcements (such as the theme park in Disneyland) leading up to the "Star Wars: The Force Awakens" release in December.
Now, Bezar, an "online marketplace" is joining the bandwagon with their newly released limited edition and overwhelmingly luxurious "Star Wars" pens.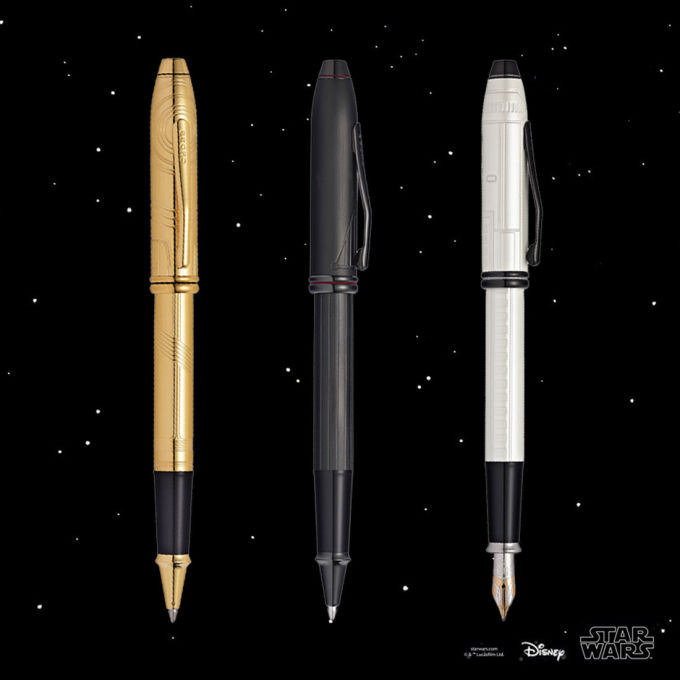 The website's description reads:
"Introducing the new CROSS Townsend Star Wars® Limited Edition Collection, commemorating three iconic characters from the 1977 film. Each limited edition writing instrument is a truly unique luxury and the perfect gift for any Star Wars fan. [...] The impeccably engraved character detailing enhances their collectability and authenticity."
It comes to no surprise that all the pens, made by CROSS Townsend, are designed after three notable characters of the "Star Wars" franchise.
There's a black pen (there's also a gray variation) designed off of Darth Vader, a white one based on the Stormtroopers, and a gold one for C-3PO.
Each of the three designs comes in a ballpoint version, and a fountain pen version. The Darth Vader pens are unique though, because they are literally capped with a red Swarovski crystal to make you feel like you've got that red lightsaber in your hand.
Each and every pen is also very unique, cause it has its own serial number. In addition, only 1,977 pens were made - a tribute to the year when the original "Star Wars" film came out.
Of course, the luxurious pens come with a hefty price tag too. The ballpoint pens retail for $450, while the fountain pens cost $575.
If you're willing to shell out that much money on these collectible limited edition pens, or are just filthy rich, you can go buy them here.
© 2018 Food World News. All rights reserved. Do not reproduce without permission.
Food Biz
Campbell Soup has announced it will sell its Danish baked snacks manufacturer Kelsen Group to CTH Invest, a Belgian holding company affiliated with the Nutella maker Ferrero, for $300 million. The transaction is subject to customary purchase price adjustments, and it is expected to be completed in the first quarter of fiscal 2020.
The newly appointed editor-in-chief of Esquire Magazine, Michael Sebastian, recently told the press that he wants to get away from the idea that the magazine's reader is "a middle-aged white guy who likes brown liquor and brown leather"). Which should send chills down the ad dept's spine working on those Scotch and bourbon accounts!
Adding a squeeze of fresh lime and a dash of salt to a lager or pilsner has long been Mexican tradition, and in the 1980s, this practice evolved into the refreshing beer cocktail known as a michelada. The popularity of the drink grew across Mexico and, thanks to the influx of immigrants, it translated well to restaurants and bars across the U.S.
Food Tech
Rosé wine is made in almost every region in the world, from many different grape varieties. And rose-colored wine is produced in a sweet, dry, sparkling, and even fortified style. Yet the classic style of dry rosé wine from Provence sets the trend that many other wine-producing regions around the world want to emulate.
Dominique Ansel moved from Paris to New York City to work at Daniel Boulud's French flagship Daniel as the executive pastry chef, a position he held for 6 years. Fast forward 15 years later, and Ansel has become a household name after the invention of a certain croissant-donut hybrid, and his namesake bakery has expanded beyond SoHo to include branches around the world.
As if you ever really need an excuse to order a piña colada, today is National Piña Colada Day, so go ahead and order that creamy, sweet, cocktail-meets-dessert libation that is best served on a sunny, tropical beach somewhere exotic.