Take A Look At These Luxe CROSS Townsend 'Star Wars' Pens [PHOTOS]
Sep 03, 2015 10:00 AM EDT | By Martha Ignacio
The force has always been strong with the "Star Wars" fan base.
In fact, many have been looking forward to the brand's numerous deals (like those limited edition Adidas sneakers) and announcements (such as the theme park in Disneyland) leading up to the "Star Wars: The Force Awakens" release in December.
Now, Bezar, an "online marketplace" is joining the bandwagon with their newly released limited edition and overwhelmingly luxurious "Star Wars" pens.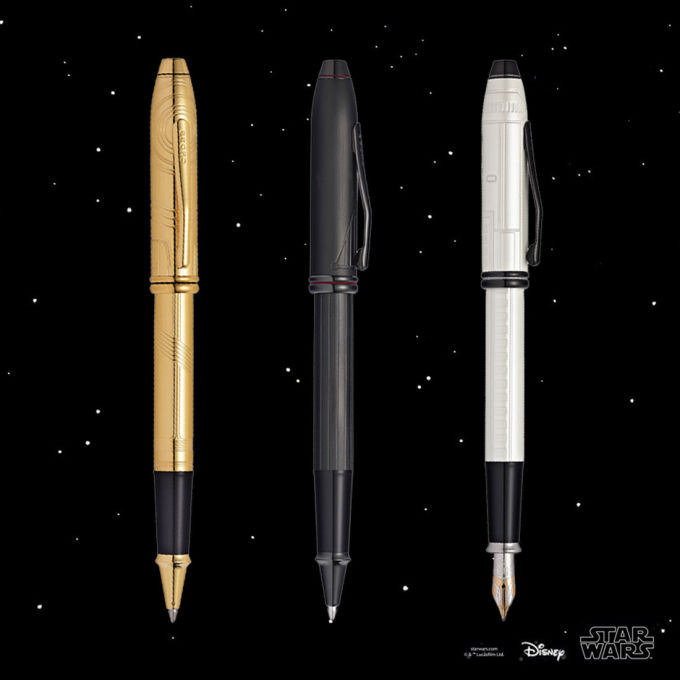 The website's description reads:
"Introducing the new CROSS Townsend Star Wars® Limited Edition Collection, commemorating three iconic characters from the 1977 film. Each limited edition writing instrument is a truly unique luxury and the perfect gift for any Star Wars fan. [...] The impeccably engraved character detailing enhances their collectability and authenticity."
It comes to no surprise that all the pens, made by CROSS Townsend, are designed after three notable characters of the "Star Wars" franchise.
There's a black pen (there's also a gray variation) designed off of Darth Vader, a white one based on the Stormtroopers, and a gold one for C-3PO.
Each of the three designs comes in a ballpoint version, and a fountain pen version. The Darth Vader pens are unique though, because they are literally capped with a red Swarovski crystal to make you feel like you've got that red lightsaber in your hand.
Each and every pen is also very unique, cause it has its own serial number. In addition, only 1,977 pens were made - a tribute to the year when the original "Star Wars" film came out.
Of course, the luxurious pens come with a hefty price tag too. The ballpoint pens retail for $450, while the fountain pens cost $575.
If you're willing to shell out that much money on these collectible limited edition pens, or are just filthy rich, you can go buy them here.
© 2018 Food World News. All rights reserved. Do not reproduce without permission.
Food Biz
Food is always an excellent gift choice at Christmas. But how do you select which edibles to give your loved ones? Well, help is at hand. Take a look at the following food gift ideas so you can decide who should receive them.
Are you interested to keep food fresh longer? Different types of tricks and techniques used to preserve food for a long time and to extend the shelf life of food. One of the best recommended food preserves is a vacuum sealer which meets all the requirements of interested people and a perfect appliance you surely need.
Tired of the conventional three-course meals at wedding receptions? Want something different? Give the menu a twist with our trendy wedding food ideas.
Food Tech
Traveling to new cities is always an exciting adventure. One of the best ways to see a city and try local food is by visiting famous night markets. Night markets are always bustling and full of locals and foreigners trying the delights.
Bearing an excess of weight feels awkward, and it can likewise harm your health. As per the research of the CDC, obesity rates have soared in the United States in recent years. As of 2019, more than 33% of American grownups were viewed as obese, characterized as having a BMI of 30 or higher.
Grilling a steak to perfection is both a science and an art and there are many ways for this small miracle to horribly wrong, especially without some perspective and experience. But, by understanding the following 10 principles of perfecting the grilled steak, you too can be on the way to steak mastery.